Central Argentino
Sarmiento de La Banda
Unión Santiago
Defensores Esquiú
Andino
Vélez de San Ramón
Atlético Policial
Club Atlético Güemes
Comercio Central Unidos
Instituto Santiago
Juventud Unida RC
Banda Norte
Tiro Federal Morteros
Argentino Peñarol
Sarmiento Leones
Alm. Brown Malagueño
Racing Córdoba
Alumni
Las Palmas
Atenas
Defensores La Boca
San Lorenzo Rodeo
Atlético Peñaflor
Trinidad San Juan
San Martín Rodeo
Sportivo del Bono
Juventud Alianza
Sportivo Peñarol
Independiente V. Obrera
Atlético Colón Junior
Rodeo del Medio
Andes
Luján de Cuyo
La Libertad
Pacífico
Atlético Palmira
Deportivo Montecaseros
Jorge Newbery VM
San Martín Mendoza
Huracán San Rafael
Alianza Campo Largo
Atlético Laguna Blanca
Comercio
Primero de Mayo
Argentinos del Norte
San Martín Formosa
Sol de América
Huracán Las Breñas
Libertad Formosa
Juventud Unida C.
Comunicaciones Mercedes
Ferroviario Corrientes
Huracán Montecarlo
Central Goya
Deportivo Madariaga
Defensores Pto. Vilelas
Huracán Goya
Fontana
Villa Alvear
Resistencia Central
Cosmos
Arsenal Viale
Belgrano Paraná
Colegiales Concordia
Viale María Grande
Libertad Concordia
Santa María de Oro
Atlético Villa Elisa
Atlético Uruguay
Deportivo Achirense
Atlético San Jorge
Juventud Pueyrredón
PSM Fútbol
Coronel Aguirre
Rivadavia Venado Tuerto
Unión Totoras
Tiro Federal
Ben Hur
ADIUR
9 de Julio Rafaela
Def. Fraile Pintado
Tiro Gimnasia San Pedro
San Francisco Bancario
Camioneros Argentinos
Talleres de Perico
Los Cachorros Salta
Mitre de Salta
Tabacal
Atletico Pellegrini
Independiente HY
Atletico Progreso
Almirante Brown de Lules
Central Norte
Atlético Amalia
Sportivo Guzmán
Deportivo Aguilares
Bella Vista Tucuman
San Antonio
Lastenia
Concepción
Viamonte
Independiente Chivilcoy
ADIP
CRIBA
Newbery Junín
Atlético Camioneros
Everton La Plata
El Linqueño
Mercedes
Bragado Club
Sportivo Barracas Colón
Atlético Baradero
Juventud Pergamino
Sports Salto
Sportivo Baradero
Belgrano San Nicolás
Defensores de Salto
Colonial
General Rojo UD
Sportsman
Deportivo Villalonga
All Boys Santa Rosa
Embajadores
Racing Olavarría
General Belgrano
Bella Vista
Ferro Carril Sud
Tiro Federal BB
Huracán Ingeniero White
Liniers Bahía Blanca
Racing Balcarce
Ferrocarril Roca
El Porvenir
Circulo Deportivo
El León
Independiente S.Cayetano
Kimberley Mar del Plata
Norberto de la Riestra
Independiente Tandil
Argentinos 25 de Mayo
Victoria
Boxing Club
Independiente Pto. SJ
Los Cuervos
Huracán de Comodoro
Olimpia Juniors
Estrella Norte
Jorge Newbery CR
Independiente Río Col.
La Amistad
Cruz del Sur
Racing Trelew
25 de Mayo La Pampa
J.J. Moreno
Germinal de Rawson
Pacífico Neuquen
Sol de Mayo
Deportivo Rincón
Santamarina
2' L. Fredes | 10' A. Bordon | 33' L. Acevedo | 48' M. Michel | 61' M. Michel
Villa Dalmine
Boca Unidos
Brown Adrogue
14' J. Garcia | 46' L. Nieto
Oeste
16' Danielzinho Simoes | 41' Mazinho | 54' Lidio
Juventude
Brasil de Pelotas
32' B. Freitas | 57' Nem
Flamengo RJ
7' O. Berrio | 90' E. Ribeiro (pen.)
Santos AP
São Paulo AP
Brantford
York Region
Lobos BUAP
14' L. Quinones | 31' J. Quinones
Santos Laguna
22' O. Martinez | 43' J. Furch
Club America
Queretaro
86' Melilivu (pen.)
Colorado Rapids
76' D. Badji
Houston Dynamo
6' A. Wenger | 15' M. Manotas | 17' M. Rodriguez
Montreal Impact
24' M. Salazar
FC Dallas
52' C. Colman | 63' C. Colman
Columbus Crew
65' J. Meram
Philadelphia Union
New England Revolution
16' L. Nguyen | 34' K. Kamara | 70' T. Bunbury | 73' T. Bunbury
Los Angeles Galaxy
22' D. Steres | 53' D. Steres | 79' A. Lassiter
La Guaira
49' J. Azocar | 78' D. Bracho
Caracas
Valencia
New York Cosmos
Valencia
New York Cosmos
53' E. Calvillo | 77' E. Ledesma
North Carolina
Swansea
Chorrillo
26' E. Mosquera | 46' A. Stephens
Tauro
Plaza Amador
3' J. Murillo | 35'
Magallanes
U. De Chile
3' Y. Leiva | 74' L. Benegas
Nublense
U. De Concepcion
Iberia
30' D. Gonzalez | 70' D. Gonzalez
Rochester
Pittsburgh
Cincinnati
32' D. Fall | 46' | 70' D. Konig
Harrisburg City Islanders
Tampa Bay
40' J. Cole | 69' M. Paterson
Charleston
Richmond Kickers
46' Oliver | 47' L. Fernando Nascimento | 87' S. Asante
Bethlehem
39' A. Jones | 69' K. Tribbett
Quindio
14' W. Galeano | 43' S. Mena
Juventus
63' G. Chiellini
Barcelona
15' Neymar | 26' Neymar
Antonio Conte close to agreeing new Chelsea contract
Sky sources understand Chelsea boss Antonio Conte could sign a new deal with the Stamford Bridge side 'in a matter of days'
Chelsea boss Antonio Conte could sign a new deal 'in a matter of days' amid interest from other clubs, as  Sky sources understand.
Conte's first season in the Premier League has proved to be a memorable one so far, with the Blues sitting 10 points clear at the top of the table heading into the last 11 games.
But not all has been smooth sailing for Conte. who revealed last week that his family, still based in Italy, are missing him. They are due to join him in London before next season.
However, Chelsea want to keep Conte at all costs and talks could come to a head before their next game, an FA Cup quarter-final tie with Manchester United at Stamford Bridge on Monday night.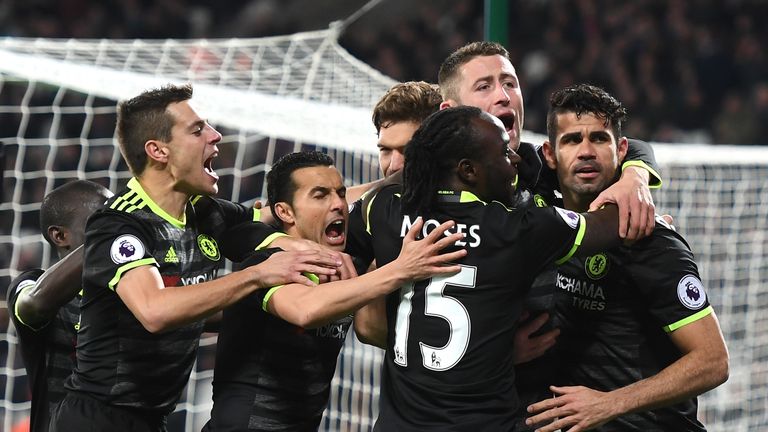 Interest in Conte
There has been interest from Inter Milan, with Sky in Italy reporting that the Nerazzurri have contacted Conte's representatives over his availability.
Inter are struggling in sixth place in Serie A, with manager Stefano Pioli having to answer questions about the possibility of Conte replacing him at a press conference earlier this week.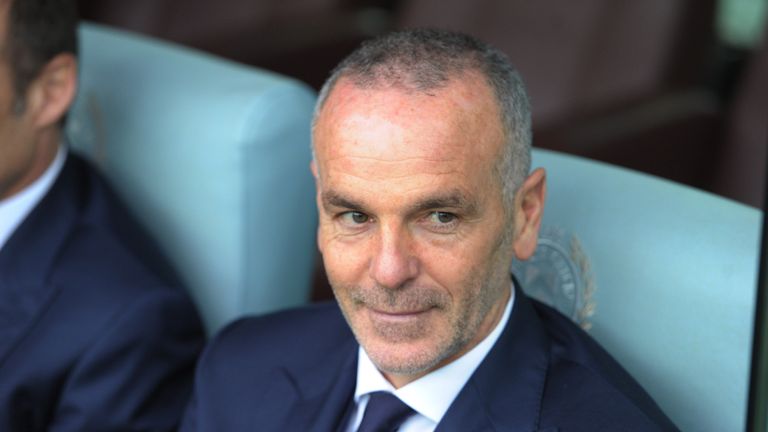 "Rumours of other coaches are just part of football," Pioli said. "However, I do not lose the belief that I can do well for this club.
"The team have important values, with great young players who can do very well. We have to look to close the gap on the top teams and aspire to be amongst the best."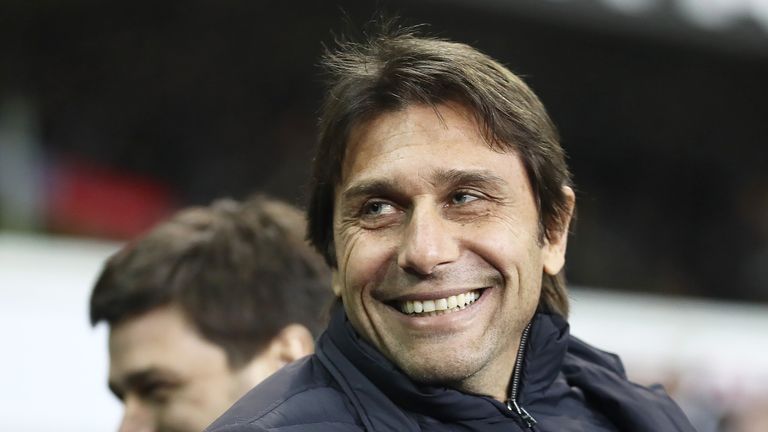 Conte is also believed to be one of the contenders to take over from Luis Enrique at Barcelona although he is not, as yet, one of the front-runners.
There has also been reported contact from Inter's rivals AC Milan, with Conte understood to be the first choice for their Chinese owners. They tried to lure Conte to the San Siro last summer when he left his role as Italy manager.